Vintage photo of Rosalind Russell practicing handling a row boat between scenes
Time left:

29d 1h 1m
Shipping:

$10.0

Ships to:

Worldwide

Item location:

Iceland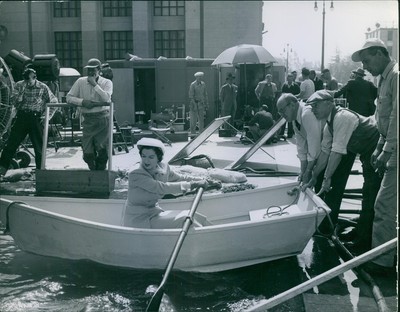 Vintage photo of Rosalind Russell practicing handling a row boat between scenes of her current film. - , IFOT

Size of photo 9.4" x 7.3"
-    

, IFOT
Id: 533205
Rosalind Russell practicing handling a row boat between scenes of her current film.Rosalind Russell (June 4, 1907 – November 28, 1976) was an American actress of stage and screen, known for her role as fast-talking newspaper reporter Hildy Johnson in the Howard Hawks screwball comedy His Girl Friday (1940), as well as for her portrayals of Mame Dennis in Auntie Mame (1958) and Rose in Gypsy (1962). A noted comedian, she won all five Golden Globes for which she was nominated and was tied with Meryl Streep for most wins until Streep won her sixth award in 2007. Russell won a Tony Award in 1953 for Best Performance by an Actress in a Musical for her portrayal of Ruth in the Broadway show Wonderful Town (a musical based on the film My Sister Eileen, in which she also starred). She was nominated for the Academy Award for Best Actress four times throughout her career.


Front and back of the image:

IMS Vintage Photos
This photograph originates from a press photo archive. IMS Vintage Photos is selling photos that come from editorial press photo archives in Scandinavia and dating back to early 19th centrury. The archives are in great condition and have been in storage for a long time and the images in the collection are now being sold off one by one.  The images archive where distributed in most cases in maximum only 10-15 copies around the world at the time and many copies have been lost or damaged during time, each copy from the collection is therefore very rare and unique.
This kind of rare images are not only a great thing to own but also a great investment. Own a piece of history with this great photography memorabilia.
Follow us on Facebook to see the latest and noteworthy images out for sale, just search for "IMS Vintage Photos".
Copyright
By purchasing a photo from IMSPIX Images, copyright does not transfer. We are selling these photos as collectibles only and no copyright is implied.
Payments
We only accept PayPal as method of payment.
Please note that you do not need to have a PayPal account to pay using PayPal, just a valid debit or credit card.
Packaging and delivery
All items are shipped in strong cardboard envelope to ensure safe delivery.
We aim to dispatch the same day or the next working day.
We are in a fantastic location for shipping, right between USA and Europe - shipping has proven to be faster from us than local shipping in some countries like USA. We dispatch using Iceland Post 1st Class or UPS Express delivery.
Shipping time
USA / CANADA orders should take approx 8-12 days to be delivered.
WESTERN EUROPE orders will normally take approx 6-10 working / business days to be delivered.
EASTERN EUROPE can take up to 15 working / business days to be delivered.
REST OF THE WORLD can take up to 16 working / business days to be delivered
Express shipping via UPS takes usually up to 1-3 business days, anywhere in the world.
Shipping cost
Shipping is based on the actual cost of shipping, we ship from Iceland where the images are and we ship with Iceland Post and UPS. Iceland Post has fantastic shipping record and we have many shipments arriving earlier to clients than local shipments within Europe and USA. We are based right between USA and Europe so we can offer fast shipping to both continents. We do not offer discounts on shipping but we gladly offer combined shipping. Shipping consists of a base price and then a small extra fee added for each additional image.
All orders above 200 USD must be shipped with either registered letter or express.

Economy shipping - A priority
Europe $6 + $1 for every extra item.
USA and rest of world $9 + $1 for every extra item.
Registered letter with tracking number
Europe $19 + $1 for every extra item.
USA and rest of world $28 + $1 for every extra item.
Expidited/Express shipping via UPS
Europe $70 - no extra charge for additional items
USA and rest of world $100 - no extra charge for additional items
* Seller assumes all responsibility for listing above.